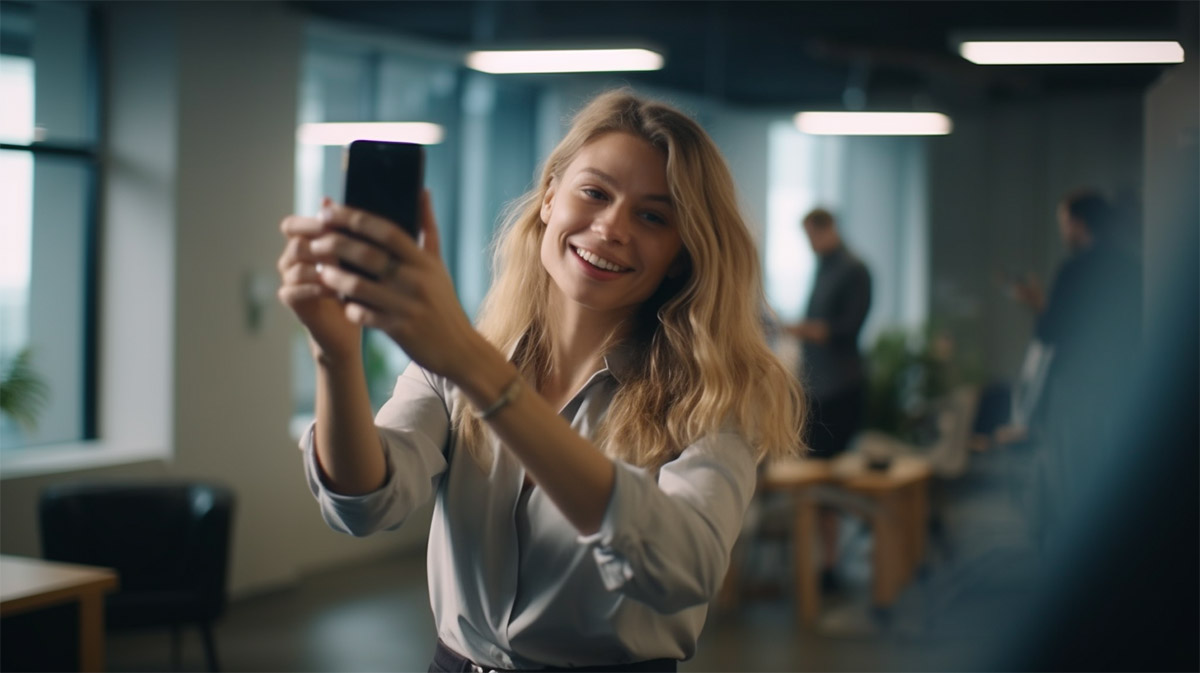 Since 2019, portrait short-form video has grown from a novelty to the second most popular format for posting social content. Audiences are scrolling through and consuming portrait videos almost addictively via TikTok, Reels, and Shorts, capturing attention away from traditional digital content forms.
Why should you bother with portrait video?
The explosion in popularity of portrait video, initially popularized by TikTok and later adopted by Instagram Reels and YouTube Shorts, provides a more casual, intimate feel, allowing for a more authentic connection with the audience. Their short length and autoplay scrolling make them extremely accessible and easy to digest.

This presents a fantastic opportunity for B2B brands to create engaging content tailored for mobile screens. A whopping 68% of viewers will happily watch a business video under one minute in length, and videos get double the share rate compared to other social content formats.

Users spend an average of 3 hours and 43 minutes daily on their mobile devices, making portrait videos an increasingly effective way to reach them.

Investing in portrait video content is a smart move for B2B brands, with 93% of businesses finding new customers through short-form social media videos. The number of brands adopting this format is growing – 51% of marketers who experimented with portrait videos last year plan to do even more in the future, while 38% intend to at least maintain their current output.
The keys to success when it comes to creating portrait video content as a B2B
Authenticity is crucial when crafting compelling portrait video content. Understand your audience's preferences and interests, using data-driven audience insights to develop tailored content. The portrait video format lends itself to a style of content that is intimate, authentic, and relatable, rather than cinematic or professional-looking. Combining this style with precise and succinct messaging ensures essential information registers with the viewer.

Adapting to a different style of storytelling is necessary for B2B brands. While cross-posting may work for other social platforms, it doesn't translate well to TikTok. Although leveraging existing content assets is possible, they need to be adapted in format, style, and tone to fit audience expectations.B2B brands with a more formal tone can still excel with portrait video, but it requires adaptation of content strategy. Loosen up the tone, embrace humor and creativity, participate in relevant trends and challenges, share educational content concisely, and collaborate with influencers and industry experts. Finally, showcase your brand's human side by featuring employees and offering insights into your company culture.

Portrait video is also an excellent medium for being playful and experimenting. Augmented reality (AR) and virtual reality (VR) apps, and platforms like TikTok and Instagram are ideal playgrounds for trying ideas with portrait content, and playing with enhancements and filters that boost engagement and shareability.

In the end, the key to maximizing the impact of portrait videos as a marketing tool for brands lies in maintaining flexibility and authenticity, trying out various formats and styles, and continually refining your approach based on data and analytics. By staying current with the newest trends and technologies, you can create portrait videos that charm your audience and yield tangible results.We'd love to help you understand your audience so you can tailor amazing portrait video content that will bring in real customers. Contact us now.
Published on 2023-04-25 13:55:15